Paid internships offer a valuable learning experience for students to embark on post-degree and pre-career earning. These paid internships are relatively common in New York and typically last for the duration of the summer. They offer a fantastic opportunity for you to learn the ropes in your chosen field and work alongside experienced professionals, but you will have to work from the bottom up!
The best thing about getting a paid internship in New York is that you will be more likely to get hired from the employer with whom you have interned. For this reason, it is essential to consider where you want to intern carefully; big-name corporations come with an element of prestige that will look impressive on your CV when later applying for jobs, whereas, smaller companies may offer a more rewarding internship experience, in which you can see whole projects through.
The best thing about internships is that, on average, 7 out of 10 interns receive a full-time job offer from their employer! If you dream of a career in the bright lights of New York City, gaining a paid internship here could be the first step to achieving that dream.
Top Tips to Secure an Internship Position
Applying for and securing an internship in New York City, when you are living abroad, can feel like an overwhelming task. Follow our top tips to help you on your way:
Take time to research companies in New York and the internship positions that they offer. Instead of applying for every and any internship that you find, pick the top 5-10 programs that match the experience you wish to have. Personalize your cover letter specifically to these positions and get applying as soon as the posts are advertised.
Network! Even though you are far away, you can still try to build a network of contacts in NYC. Think about any friends or family who live, or may have connections, there. Talk to people at your university to see if any alumni or university contacts are working there. And, finally, get on Linkedin. If you have chosen your top five to ten companies, start trying to connect with people who work there on Linkedin. Use this opportunity to ask them about the company and their experience working there – you never know who might be in charge of the internship program and, if nothing else, at least there will be a familiar face there if you do secure the internship.
Consider the skills that companies want. If you keep seeing the same skill pop up on many of the job descriptions – whether under the required or desired lists – think carefully about taking the time to gain that skill. This could help your application to stand out, or it will, at least, put you on an equal footing with other candidates.
Where to Apply for an Internship in NYC
There are many websites advertising internships in New York. Some will post information about any type of internship and others are more specific to certain fields. Here is a round-up of some of the best:
The Intern Group
Advertises internships in several key cities across the world, including New York. This company offers internship packages. After applying, completing an interview and being offered a place in the company, the Intern Group will support you throughout the whole internship process.
IES Internships
This company offers 8-week, full-time summer and semester professional internships in several locations around the world.
USEH
Offers internships in the fields of Human Resources, Finance, Sales and Marketing, and Graphic Design.
Fashion Week Internships:
The key provider of internships within the fashion industry.
ArtBound Initiative
This company has links with many creative organizations and offers placements in the creative field.
Internships.com
On this site, you can search for internships by job field, or even by the subject in which you majored.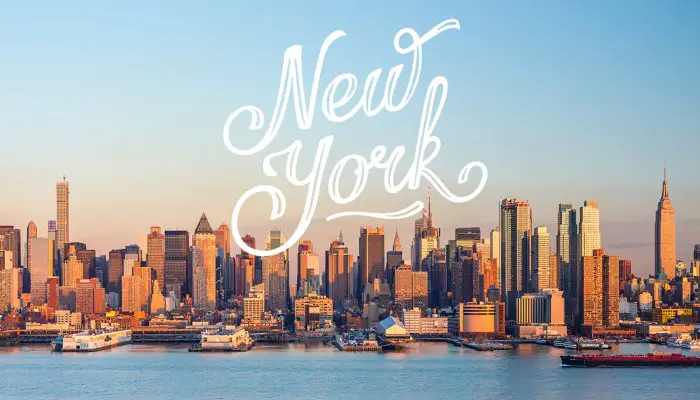 Visa Requirements for International Interns in New York
The U.S. Department of State states that non-U.S. citizens wanting to complete an internship in the U.S. must apply for a J-1 Intern Visa before their arrival in the U.S. This visa will protect you as an international intern, ensuring that the opportunity you will embark on is legitimate for your professional development. To qualify, you must be a foreign citizen who is currently studying at an institution outside of the U.S. or have graduated in the last 12 months.
On applying for the visa, you agree to enter the U.S. to take part in a work-based internship program that is relevant to the academic field in which you have studied. The internships are to be for a period of no more than 12 months. To apply for this visa, you must provide a valid passport, your CV and proof of enrolment on your university course.
There are companies, such as NYI (New York Internships), that can help you with the visa application process.
Transportation and Housing
Whilst the Big Apple will provide a vibrant city experience; there are certain considerations regarding housing and transportation that will need to be made by students seeking an internship here.
Accommodation
Housing is not cheap in New York. Depending on the area and type of accommodation you choose, you could be looking at having to fork out up to $3000 per month! The most affordable option for summer internship students is to stay in University housing. This will set you back about $1100 per month, which is considered cheap rent in NYC.
The benefit of using university housing is that you will room share and can, therefore, ensure you quickly have a friend in the city. The downside? Spaces are limited, and this is a popular option for interns – so be sure to get your application for a room in early.
Transportation
When thinking of New York, hopping from place to place in a yellow cab probably pops into your mind. But beware: the cost of cabs adds up quickly! Taking the subway is your best bet when in NYC.
Internship Human Resources
Compass Group is now offering its wonderful Human Resources Internship program based in Rye Brook, NY. This is a paid position that will run for 10 weeks. This position will assist the FLIK field HR team with various projects that include opportunities to learn the different aspects of human resources. The candidates who are enrolled as junior or senior studying business administration or human resources can apply.
Provided By: Compass Group
Type: N/A
Duration: 10 weeks
Deadline: Open
Apply Now
2020 Reuters Journalism Internship
Thomson Reuters is currently accepting resumes for a 2020 Reuters Journalism Internship. This paid program is hands-on reporting positions covering business, political and general news. The length of this program is 10 weeks. To successfully fill this position, applicants must have completed at least two years of university.
Provided By: Thomson Reuters
Type: Full-time
Duration: 10 weeks
Deadline: Open
Apply Now
Summer Undergraduate Intern, New York
Fleishman-Hillard is proud to offer its Summer Undergraduate Intern program located in New York. This is a full-time, paid position with the opportunity for extension. The ideal candidates will have graduated and completed college coursework in journalism, public relations, communications or related fields. This program will offer the opportunity to work with a team of public relations counselors serving a wide roster of internationally recognized companies.
Provided By: Fleishman-Hillard
Type: Full-time
Duration: 40 hours a week
Deadline: Open
Apply Now
Photography Intern – Summer 2019
Spark Group is now inviting applications for the vacant position of Summer 2019 Photography Intern. This position is located in New York, NY. The ideal candidate should be able to create photos and videos and be well versed in adobe creative suite, specifically Photoshop and Lightroom, and be proficient with DSLR cameras, knowledge of lighting equipment a big plus.
Provided By: Spark Group
Type: Full-time
Duration: 24 hours per week
Deadline: Open
Apply Now
Account Planning Internship (NY) – Summer 2019
Fullscreen, Inc. is currently hiring creative and ambitious people for its Summer Account Planning Internship located in New York, NY. This paid internship is 30 hours per week for 12 weeks. To be considered, applicants must have 3.0 GPA or higher and be currently enrolled undergraduate junior or senior students. This intern will work with the account planning team to create weekly client reports and campaign wrap reports.
Provided By: Fullscreen, Inc.
Type: Full-time
Duration: 12 weeks
Deadline: Open
Apply Now